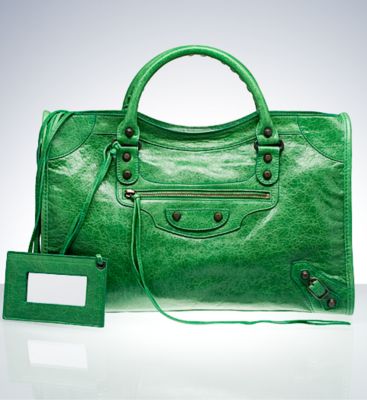 This was delivered today. Oh yes! The coveted Balenciaga City Bag in Palm Tree.
Ours? Nooooooooooo...We wish! A fashie, with her head firmly screwed on read our post on Koodos.com having a limited super sweet deal on this usually pretty pricey specimen. She immediately contacted us to purchase it for her. Alas! But we missed it by mere seconds. Most times, Koodos has an offer for a short time only. We felt soooooooo bad and promised to get one for her the next time Koodos has the same offer. We assured her it was several times a year.
A week later, we received an email from her saying that the offer was back on! We quickly ordered it for her. Phew! Made it this time. If you look on Koodos now, there is only one Balenciaga City Bag left.
Something for you all to chew on...when we googled this bag, we found out it was current season on the Balenciaga US site. But not for the UK! So now we know, Koodos and other similar online retailers in the UK get it when it the new season is brought in. Fantastic! That means it is not really LAST season...
Designer FASH
Balenciaga Palm Tree City Bag
RM3570 / £715 (including postage, delivery and postage)
Special Order